Jasmine Badeau is the winner of Cycle 1 and the mentor to the contestants for Cycle 2. Her user is LolaAyou (born December 14, 1996). LolaAyou also posts blogs about the latest information on Bratz and Monster High dolls.
She is thought to be a 10th Anniversary Shira doll.
Jasmine auditioned for Bratz Next Top Model at the age of 17. She was announced as the winner on September 5, 2011. Jasmine was signed to $uper$tarz modeling agency, and did a cover and six-page spread in Bratz Magazine. She also had a $100,000 contract with BratzGirl Cosmetics.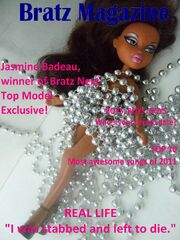 Jasmine was the mentor for Cycle 2, where she gave the competing models advice for photo shoots.
Her user also made the official website for Cycle 2.
Ad blocker interference detected!
Wikia is a free-to-use site that makes money from advertising. We have a modified experience for viewers using ad blockers

Wikia is not accessible if you've made further modifications. Remove the custom ad blocker rule(s) and the page will load as expected.