Eoin Greally

Born

Eoin Greally

Occupation

Co-judge
Fashion designer

Years active

2012-2014

Eye color

Brown (doll)

Hair color

Dark brown (doll)

Voiced by

MrEoin1000

Website
Eoin Greally was one of the judges in the judging panel for cycles 3 and 3.5 of Bratz Next Top Model . He was voiced by MrEoin1000.
Eoin also enjoyed taking photos of Bratz dolls to enter into competitions created by others.
Main article: Cycle 3
Eoin joined the judging panel in Cycle 3 after the original co-judge, Sasha left. He was also joined by Brittney Layne.
Cycle 3.5
Edit
Main article: Cycle 3.5
Greally will continued to co-judge the first and only episode of Cycle 3.5. He was represented by a MyScene "Jammin' in Jamaica: Cruisin' the Boardwalk" River doll.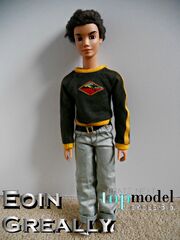 After Bratz Next Top Model
Edit
Eoin continued to take photos until he left the community in 2013/4.