Brittney Layne

Born

Brittney Layne

Occupation

Years Active

2012-2013

Eye color

Blue (doll)

Hair color

Blond (doll)

Voiced by

BratzGlitzProduction

Websites
Brittney Layne was one of the judges on the judging panel for Cycles 3 and 3.5 of Bratz Next Top Model. She was voiced by BratzGlitzProduction.
Main article: Cycle 3
Brittney Layne joined the judging panel during Cycle 3, alongside Eoin Greally. She was originally the contestant Jane Johnson, until she quit in Episode 5.
Cycle 3.5
Edit
Main article: Cycle 3.5
Brittney Layne joined the judging panel in
Cycle 3.5
before its cancellation. She was represented by a Barbie Princess Annaliese doll.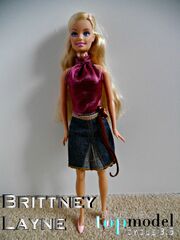 Brittney's real name is Haley.
See Also
Edit
Ad blocker interference detected!
Wikia is a free-to-use site that makes money from advertising. We have a modified experience for viewers using ad blockers

Wikia is not accessible if you've made further modifications. Remove the custom ad blocker rule(s) and the page will load as expected.